[LGW for Dummies] Gatwick Airport Traffic: The cheapest/best way/ticket to you (LGW - London)
There are three main airport in London. Most famous is Heathrow airport.
There is a subway directly to Heathrow airport and thousands of information you can find in Internet.
In contrast, the traffic information at Gatwick Airport is relatively less.
Let's collect all information you need for you.
Train station is at South Terminal of Gatwick Airport. You can take shuttle bus from North Terminal.
So the most convenient way to downtown of London is to take the train.
A) Take train
From the airport (Gatwick Airport Station, GTW) to London, there are three main routes, stopping at three different train station.
The most trains go to
Victoria Station (VIC)
, expect local train, there is Gatwick Express go directly to VIC station.
There are about 8-9 trains in an hour, 2 to 3 of them are Gatwick Express, others are local trains.
However, the travel time between the two trains is not much difference. It takes about 30 minutes to reach the city center (the local train stops 2 stops)
In generally, you can on board to train in 30 minutes.
The second station is
London St Pancras International (STP)
. If you want to take the Eurostar, you will arrive at this station.
Train interval is an average of 30 minutes, but the journey takes a long time. The direct train can be reached in about 44 minutes.
The last one station is
London Bridge Station (LBG)
, which has about 3 trains per hour.
But one of theme needs 43 minutes, and the other two are 30 minutes.
The map below will let you know the relative positions of the three train stations.
So taking a train usually takes 30 to 40 minutes to get you to the city, which is the fastest time.
My suggestion is that you can choose the station according to your trip in London.
After knowing the route of the train, the second question is what ticket do you want to buy?
Isn't it a train ticket? Not right, there are other options
1) Use Oyster/Contactless Card
The Oyster card is a must-have for travel to London. I believe most travelers will buy this card.
Originally, Gatwick Airport was not in area which accept Oyster Card, but it is now included.
Looking at this picture below, you can see the range (light yellow) that Gatwick Airport can also include in the Oyster card.
So you don't need to buy a ticket. As long as you have balance in your Oyster card, you can go directly to the train station.
And it's cheaper than buying a train ticket or using a Railcard.
So costs is £8.3 by Oyster Card.
The question is at Gatwick Airport, where is to buy Oyster Card?
Since the Oyster Card is already available for use the train to airport, you will see a small counter (Transport for London) like below picture on the way to the train station in the Arrival Hall.
You can buy your Oyster Card directly here (if you want to buy the Visitor Oyster Card, you will also buy on the opposite side of this counter)
Or you can go to the train station to buy Oyster Card.
If you don't want to pay money for the card, you have another choice.
Now, the UK can also directly use the contactless credit card to pay directly, which is equivalent to the Oyster Card.
This way, you don't need to top up the Oyster card, you don't have to buy a card, it will be simpler and more convenient.
2) Buy "Anytime Return" train ticket
The above is not just said, it is cheaper to use the Oyster Card than to buy a return ticket.
Why would you recommend to buy a "Anytime Return" train ticket?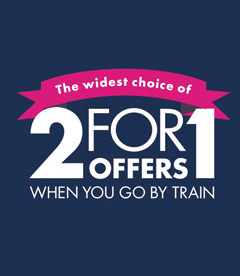 Because the National Rail Enquiries has launched a 2FOR1 offer in London.
The so-called 2FOR1 is to buy one and get one free, e.g. the London Eye, St. Paul's Cathedral, London Tower, etc., which tourist often goes to, have 2FOR1 discount.
For example, £27 ticket for the London Eye, you can save £27 by buying one get one free.
Such a good offer, of course.
But claiming the 2FOR1 offer, you have to hold the train ticket to arrive downtown of London.
If you hold the single ticket for the day, it is valid to use 2FOR1 on the same day.
If you are holding a return ticket, it is valid to use 2FOR1 from the day you arrive to the last day you departure.
Yeah~ Isn't the train we are going to take is just the national rail?
Yes, if you just want to use 2FOR1 offer, then buy a "Anytime return" ticket directly, so you can save more.
But remember to buy a "
Anytime return
" ticket. Buying a single for going to London and one for departure, it is not valid.
By the way, you can't use the automatic gate when you are out of the station. You have to leave the station through staff channel, otherwise, the ticket will be taken away.
It's more complicated to buy a "Anytime return" ticket in ticket vending machine. (Don't buy a wrong ticket for "Anytime
day
return")
It is recommended to go directly buy online and pick-up the ticket in ticket vending machine in train station.
Basically, if you go to Victoria Station, the tickets are basically Anytime (you can use it all the day )
So buy Anytime Return for a total of £32.4, don't worry about airplane delays or early arrivals, any trains that day can be boarded (except Gatwick Express)
This is $15.8 more expensive than the Oyster Card, but you just go to an attraction and earn it back.
If you have a Railcards, you may be able to have another 67% off discount in train ticket.
If you feel that it cost too much, or your 2FOR1 offer can be arranged in one day.
Here to tell you another a simple way to use 2FOR1.
First buy a ticket from Queenstown Road (QRB) to Vauxhall (VXH).
A train ticket of £2.5 is most cheaper route from urban to downtown.
This is what I used in this trip. No question from anyone.
3) Buy Gatwick Express ticket
If you take a local train, it is like a commuter train.
The space and seats in the train are insufficient for large luggage.
If you feel that comfort is important, you can buy Gatwick Express.
There are about 2~3 trains per hour, which is directly from Gatwick Airport to Victoria Station in 30 minutes.
But the fare is also more expensive, the single is £19.9, if you buy directly online, there is a 10% discount (£17.8)
Similarly, Gatwick Express tickets are also available for 2FOR1. If you buy Gatwick Express directly online, then its Anytime Return is £32.7.
There is not much difference between local train and Gatwick Express (only £0.3), then I would recommend buying Gatwick Express directly.
B) Take Bus
The above method are expensive way. So if you are a backpacker traveler, of course you have to save more.
In addition to the choice of train, if you want to find a cheaper way to transport, you can also consider taking the bus.
There are two operators at Gatwick Airport, National Express and EasyBus.
Currently there are two routes:
1) Southern Terminal - Victoria Station (operated by National Express, but can also be purchased by EasyBus), about 90 minutes
2) Northern Terminal - Earl's Court Station, underground Tube station (operated by EasyBus), approximately 65 minutes
If you want to be cheap, I suggest you buy tickets on EasyBus.
Because you can book tickets early, you can buy tickets for £1.99 at the cheapest price.
But just like her name, there is a feeling of LCC (low cost carrier)
Therefore, the restrictions are also stricter.
For example, a ticket cannot be refunded, and the baggage carried is limited.
Each person can carry up to one suitcase and one piece of hand luggage
If you have too much baggage, you may be asked to buy another seat.
The luggage limit is as shown below
However, EasyBus is also a bit flexible, because the time of flight arrival is more difficult to estimate.
So when you book online, it will give you 60 minutes of flexibility before or after.
That is to 60 minutes in advance, or 60 minutes in delay. You can take the all bus in this period.
But if you buy tickets on site, the fare is £11. I will recommend you to take the train directly.
Experience Sharing by train
We take a local Southern train from Victoria Station to Gatwick Airport.
We are taking the 17:19 train, expecting to arrive at the airport at 17:49, and then take the flight of China Airlines CI70 departing at 21:10.
Using Oyster Card to enter the station, no additional ticket purchases
There are many platforms for trains. The first step is to find which platform the train stops at.
Everyone stood in front of the electronic signboard and searching their train platform.
But beware, the local train does not have a big "Gatwick Airport" sign, because it just passes.
I suggest you check the timetable first, and it's good to find time directly.
Our train is on the 16th platform, the train is shown to Portsmouth Hbr, and Gatwick Airport is the third stop.
At the gate, you can see the yellow Oyster Card sensing area.
Because we carry big luggage, the station staff also kindly helped us to open the side door, so that we can easily pull the baggage.
Here is the train that takes today.
It is recommended you can arrive early because the space inside the train is not enough.
So when you come in early, there will be places to put your luggage and seat.
The situation of the train is like the photo below, because it is a 2-3 seat arrangement, so the walkway space is not a lot, slightly crowded
When I got off the train, I was worried that I could not move my luggage in time.
Fortunately, in the previous stop, a lot of passengers got off first, so the station at the airport did not so crowded.
So although it is cheaper to take a local train, luggage and space are still a problem. You can consider to choose local train or Gatwick Express.
If you are going from the airport to the city, then you can follow the "Train station" indicator and you can arrive at the station.
There is a ticket vending machine on the right hand side, you can buy tickets or pick up tickets here.
As for going forward, the red banner is the area of Gatwick Express.